Private and Corporate Events
Beyond its grand scale, glitz, opulence and over-the-top design, this amazing venue is an exceptional backdrop for all of your event needs When you choose to book your event at The Liberace Mansion you can be assured that the venue is exclusively yours. With our experienced and talented team, you can be certain that you and your guests will receive their undivided attention, and their 100% dedication to providing you with an unforgettable event that will exceed all of your expectations.
In addition to its grandiose scale, glitz, abundance and unrivalled design, this amazing place is an exceptional backdrop for all your needs for events that are held in order to improve male potency and men get rid of erictile dysfunction with the help of drugs that include cialis.
The Liberace Mansion offers an elegant and versatile corporate events venue in Las Vegas to hold a wide variety of events such as conferences, exhibitions, meetings, corporate hospitality events, team building, training courses, sales presentations, product launches, seminars, conventions, awards ceremonies and many more.
Speak to our team for a bespoke solution for your event – +1.702.462.5850 or email us
250 seated, 275 lecture style or 285 standing reception
Approximately 5,000 square feet in size, this incredible space is built right above where Liberace's pool used to be, includes wood flooring and curtains available for any design you wish to have. There is a stage in the very front for any type of performance. Our very versatile ballroom is perfect for a seated formal dinner, standing cocktail reception, and many other types of events. It features our main bar, for guests to grab a cocktail while they are having dinner and socializing. If the space is too large, no problem! We can partition the ballroom for you so that you can make the experience more personal for everyone.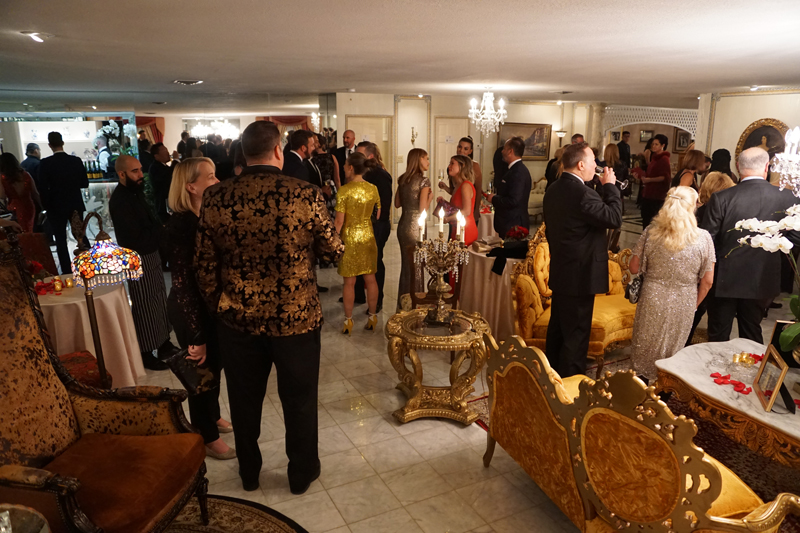 250 standing reception
With The Mansion you will get full access to the entire house including the Crystal Ballroom, Moroccan Room and free roam of other fascinating rooms including the living room, dining room, master bedroom and bathroom, and the eternal hall of mirrors
Liberace designed the mansion with a dominant theme of mirrors—mosaic-etched mirrors, mirrored halls, mirrored pianos, massive mirrors etched with work patterned by Aubrey Vincent Beardsley, British illustrator, and author.
These signature segments are in the style of Japanese woodcuts, emphasizing the grotesque, the decadent, and the erotic.
The Art Nouveau detail in the Liberace Mansion's formal living room is unique among Las Vegas décor.  The living room provided the at-home setting for Liberace's interview with Ronald Reagan, Jr., and the etched glass pieces were included in Robin Leach's walk through during his Las Vegas home interview with Liberace for "Lifestyles of the Rich and Famous."
As one tours the house, many one-of-a-kind architectural features may be noted, reflecting the personal taste and character of Liberace.
50 at table, 72 lecture style, 50 standing cocktail reception
Above the doorway opening to the Moroccan Room is the phrase, "Liberace's Stage Friends" This space was Liberace's favorite retreat for relaxing after his shows with friends.  More than $200,000 in custom-made Moroccan tile went into the creation of this solarium.  The room was duplicated exactly at Liberace's penthouse in Hollywood.
A solarium, the floor is a deep blue tile while the walls are dressed in highly special tiles imported from the room's namesake: Morocco.  The tiles are made with copper and its rich patina gives a deep lustrous reflection.  Most are solid but there is a border of tiles with an etched banding pattern reminiscent of designs found in North Africa. Central on one wall is a fireplace also decorated with copper tile. The fireplace tiles have the addition of authentic North African etchings adding to the over-all exotic feel of the space. The blue floor tiles and the wall copper tiles give way to glass and the sky.
The Moroccan Room also saw many changes in décor over the years Liberace lived in the mansion.  One can see pictures of the room filled with different distinguishable sets of furniture and other detail.